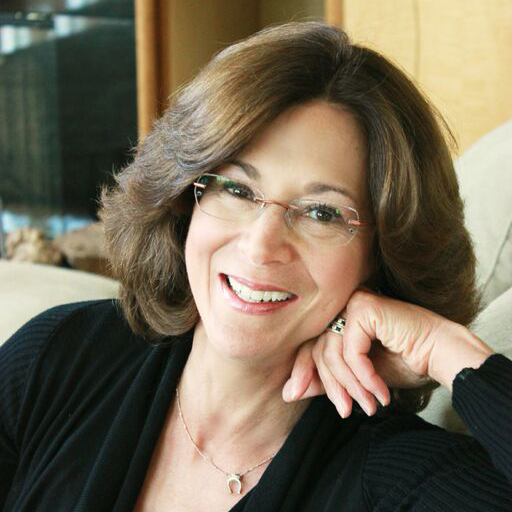 I help create healthier companies in multiple ways. 
My Ergonomic Consulting Services strive to prevent injuries in the workplace.  I bring 30+ years of experience and success in the health, wellness, and ergonomic industries to help companies embrace healthier practices and elevate the well-being of their teams.
My Wellness Consulting Services facilitate the development of global, culture-specific wellness programs for companies and their teams.
Finally, my unique Wellness Presentations and Classes help educate employees on a variety of health, wellness, and ergonomic topics that have lasting benefits, improve employee retention and workplace satisfaction, and enhance productivity.
Ergonomic Consulting Services
Many  employees spend most of their workday sitting or standing at a desk, in front of a computer screen, or working from home without the benefit of a "proper workstation".  In the many years, I have been consulting for companies, one of the biggest mistakes I see is that ergonomics is often addressed re-actively; once an issue has already occurred. 
This approach causes a company to scramble to fix a problem that could have been prevented, and is more costly in the long run. I help companies achieve a proactive approach by working on strategic program planning.  This approach ensures that if and when an ergonomic issue presents itself, there is a solid plan in place to deal with it efficiently, and cost-effectively.  
My  ergonomics consulting goes beyond just adjusting and fixing an employee's workstation. I have developed a unique and highly successful approach called "Ergonomic Wellness". The focus is to teach   employees a broader perspective, educating them  on the importance of adopting proper body mechanics, ergonomic principles, and how to take ownership of the way they use their body throughout the day to prevent injuries. This will help your organization avoid unnecessary injuries and consequent worker's compensation claims.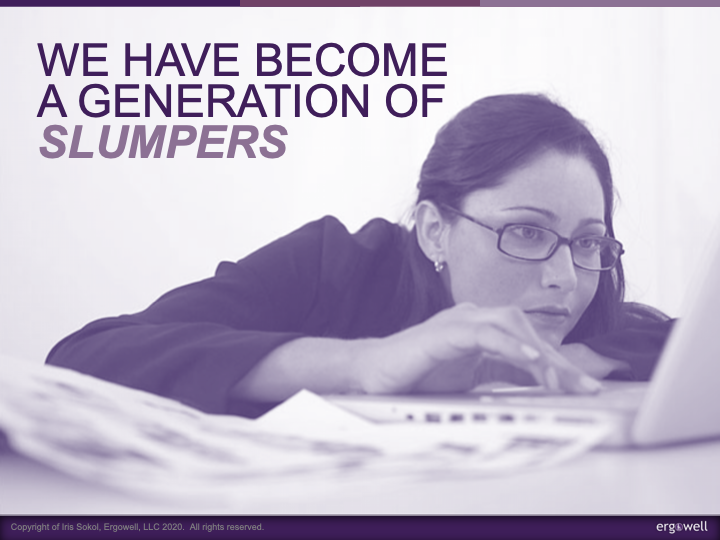 Strategic Program Planning and Development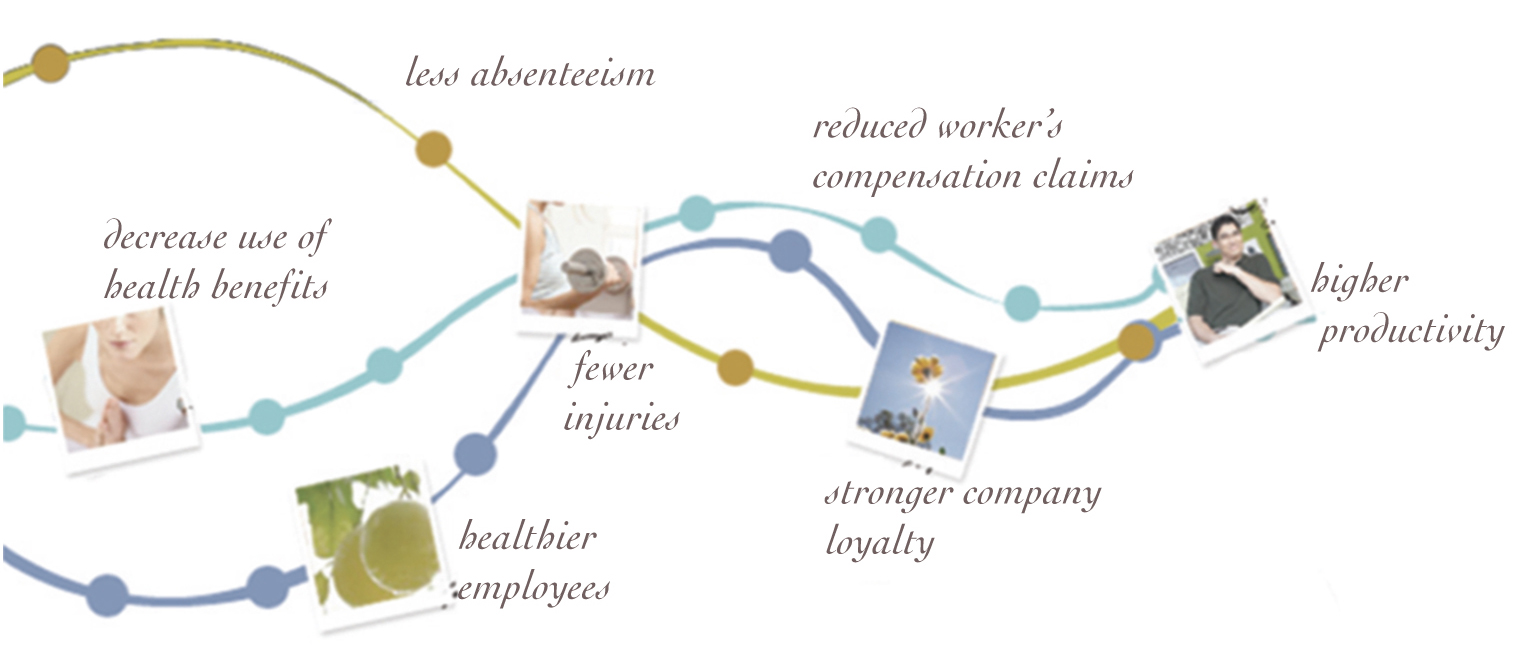 Problem:
Companies often wait until an ergonomic issue presents itself to address this important and possibly costly problem. Why is this an issue?  Because according to OSHA:
"Work-related musculoskeletal disorders (MSDs) are the most widespread occupational health hazard facing our Nation today.

Nearly two million workers suffer work-related musculoskeletal disorders every year and about 600,000 lose time from work as a result. Although the median number of lost workdays associated with these incidents is seven days, the most severe injuries can put people out of work for months and even permanently disable them.
The direct costs attributable to MSDs total $15 to $18 billion per year, with indirect costs (such as resulting management costs or the cost of production losses) increasing the costs to employers to more than $45 billion"*. 
*Source: OSHA, Occupational Safety & Health Administration
Solution:
Even if you are not ready to implement a full ergonomics program right now, having a plan in place for how you will deal with ergonomics in the future is crucial. Strategic program planning will help you determine:
What policies will your company follow when it comes to ergonomic issues

What ergonomic standards will your company adhere to when it comes to equipment that is needed

If special equipment/furniture is needed, what are you going to select to be cost effective

What system works best for you to intake, track, report and follow-up with ergonomic complaints

What is the best approach to educate your employees so they do their part in helping to prevent injuries

What are the internal resources available to address this problem and when do you need outside assistance
I assess a workplace/workstation, whether it is in an office or a home office, and make it a safer and more comfortable place to work.  I customize an ergonomic wellness plan that will save money and motivate your employees to move out of potentially high-risk behaviors and workstation habits and into healthy routines that will help prevent unnecessary injuries.
Simple (often with little or no cost) adjustments can make a world of difference and greatly enhance employee comfort and productivity. Educating employees to use better body mechanics and workstation posture makes a significant impact on their comfort and productivity.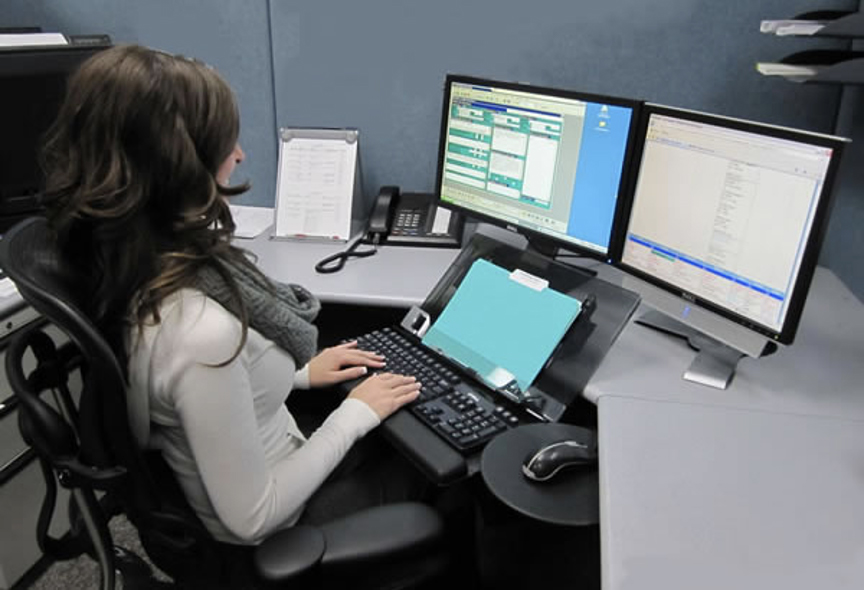 Customized Video Tutorials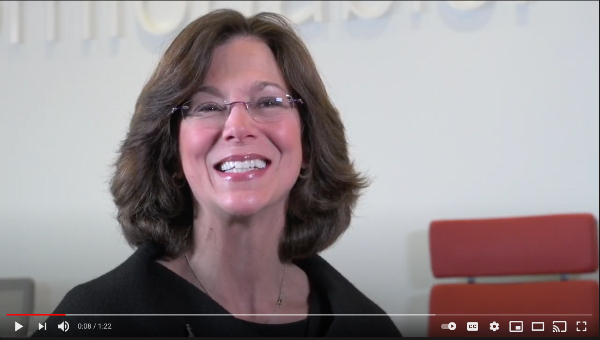 Educating employees on ergonomics is a key component to a successful program. A common problem is employees typically do not use their equipment correctly, ie, not adjusting chairs properly, incorrect height of their monitors, height of their hands when keying… etc.
An effective way to reach all employees, regardless of their location, is by using ergonomic video tutorials. I develop customized content and can shoot these tutorials at your workplace.  
Topics covered include:
Proper use of the equipment provided

Important ergonomic principles

How to adopt good body mechanics and work habits to reduce and prevent injuries

A Stretch Breaks at Your Desk session
"Stretch Breaks at Your Desk" Sessions
It is a common fact that static postures (prolonged sitting or standing at a desk) looking at a computer for prolonged periods of time can cause numerous body problems – lower back pain, neck and shoulder pain, eyestrain, hand and wrist pain to name a few conditions. When employees and employers ignore these conditions, it can cost money in the form of worker's compensation claims, medical expenses and time missed from work. 
An easy solution to the build-up of muscular tension is to stretch during the day. I have designed and personally teach an online class called "Stretch Breaks at Your Desk", a 20-minute class that is extremely effective at reducing muscular aches and pains and also helps to reduce stress.  This class leads the participants through a series of gentle stretches that bring relief to the areas that are commonly affected by computer use.  Click here for an example of this program.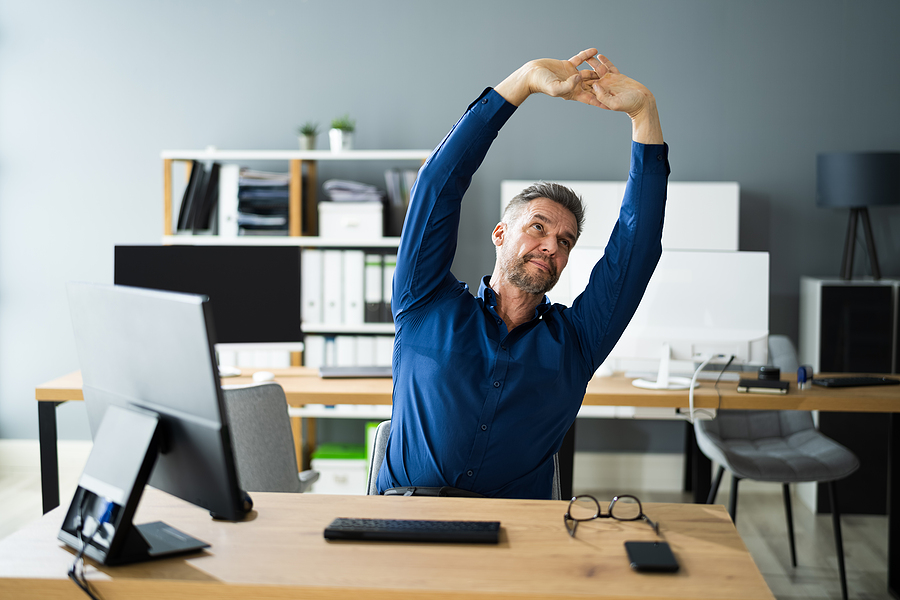 Wellness Consulting Services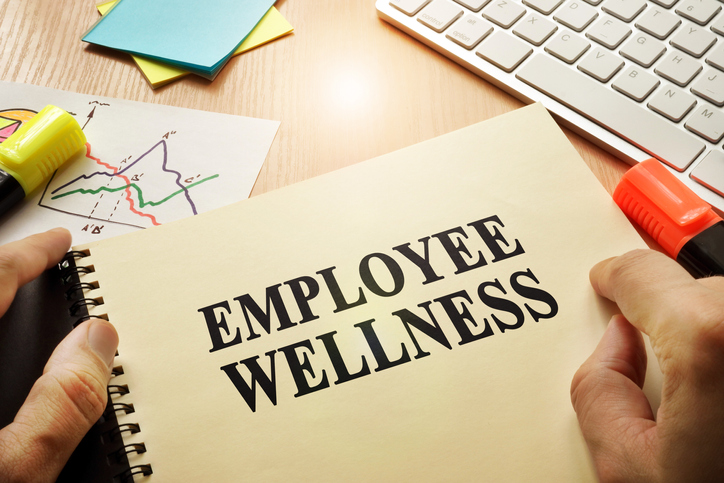 I help companies and organizations build customized wellness programs that are specific to their culture and that will  resonate with their team.  Building a program this way encourages high levels of participation.  These services result in the creation of healthier workplaces, and build cultures that incorporate healthy behaviors into daily activities.  This not only improves your employee's health and well-being, it also boosts productivity. I help HR incorporate all the programs and resources that are currently available, along with new and innovative programming to create a unique calendar of wellness events that the employees will utilize.  I can also help train a designated person on your team to administer the program and take on the responsibilities of a wellness coordinator.
Wellness Presentations and Classes
Education is a key component to helping employees along the path to greater wellness.  I provide customized, educational health, wellness and ergonomic seminars and classes live, or online.  I am a seasoned, fun, engaging presenter that has educated thousands over the 30+ years I have been in the health and wellness industry.  All of my presentations have a mindful focus that shares easy ways people can improve their health and well-being.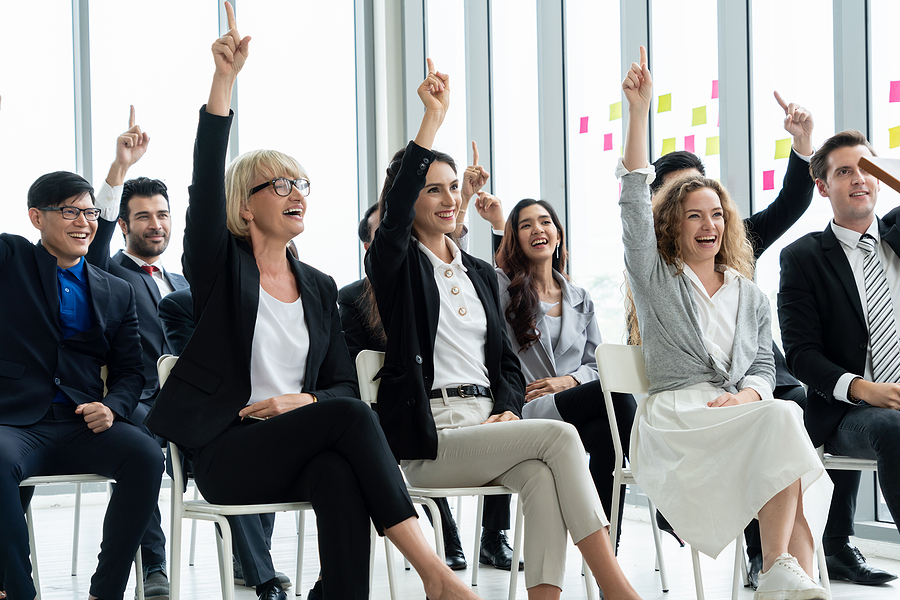 The following are my signature topics:
Creating Computer Comfort
Is a 60-minute comprehensive seminar that teaches participants basic ergonomic principles and the importance of proper body mechanics and alignment. I demonstrate a variety of adjustments that can make a standard workstation more comfortable and more ergonomically correct, often at little or no expense. Included in this presentation is taking the participants through a mini seated stretch break.
Stretch Breaks at Your Desk
Is a 20-minute class that takes participants through a series of gentle, easy to do stretches they can do right at their desk. These stretches relieve tension in the key muscles that are affected by prolonged sitting; neck, shoulders, upper and lower back in order to minimize the discomfort that sometimes accompanies prolonged static positions and repetitive motions. Employees leave this seminar feeling relaxed, refreshed and energized.
Fitness on the Fly
Is a 30-minute class that demonstrates how you can strength train key muscles anywhere, without needing any equipment, using only your own body resistance and your surroundings. I also show how you can do strength work during the day, at your desk to help easily incorporate fitness into your daily life.
Functional Fitness
It is so important to train your body in a more natural, functional way. This 30-minute class demonstrates easy to incorporate exercises that help strengthen (and lengthen!) the body specific to how we naturally move during daily life..
Backcare
It is so distressing when you experience back pain and get caught up in the medical vortex of trying to figure out what to do about it. This 60-minute in-depth presentation takes a deep dive into the back industry, and helps participants learn how to navigate the options for care when you have pain.
Back Fit
Is a 30-minute class that teaches participants simple, easy to do exercises that strengthen the core muscles that support the spine and the lower back. This class is based on my personal experience of enduring and managing lifelong back problems, and the exercises shown are derived from a therapeutic approach to maintaining a healthy back. Please Note: This class is not for those experiencing acute back pain who should be seen by a Doctor or Physical Therapist before doing this, or any other type of exercise program.
Ask the Ergo Expert
Invites participants to design their own session with me as I answer their specific questions, look at their workstation for quick adjustment suggestions and give advice on common workstation comfort issues.
Techno-Healthy - Ergonomics for Kids
Teaching kids how to address ergonomics now will help them prevent unnecessary injuries from occurring in the future! This 45 minute presentation educates kids (and their parents) on how to incorporate good body mechanics and ergonomics principles into their lives, easily and seamlessly.
The Core Connection
A 30-minute class that teaches participants how to strengthen the abdominal muscles functionally for core strength. I show a variety of simple core exercises that are easy to incorporate into your daily life, and demonstrate the most effective way to do abdominal exercises; something that people often do incorrectly.
Sitting Fit
You don't need to wait until you have time to "work out" to help improve your posture and alignment. This 30-minute class shows how to easily incorporate strength work, right at your desk, that will improve the way you move, sit and help reduce back pain from a non-functional, weak core.
Living with Lyme
Lyme disease has become an epidemic.  Currently, there are 300,000 cases of Lyme per year and that number keeps growing due to misdiagnosis, lack of proper treatment and education.  In this 45 minutes presentation, I share my own journey with Lyme, my recovery and how living a clean, balanced, healthy lifestyle brought me back to health and able to live a normal life.  Please Note:  This presentation does not give "medical advice, and those experiencing acute symptoms should be seen by a doctor.
Fitness Forever
This 45 minute seminar addresses fitness and health issues for boomers and beyond. I share how to incorporate simple health changes that make a large impact, as well as tips and techniques for how to easily incorporate exercise into your daily life. My approach to all aspects of fitness and health is a mindful and safe approach that focuses on how to improve body mechanics and posture to prevent unnecessary injuries.